Decide on the Best Trash Receptacle
In addition to finding an appealing design, there are important product options you will need to decide on to get outdoor trash cans that best fit your park, facility, or other outdoor space. The first choice you will need to make is the material.
It is important the material of your commercial trash cans matches the environment they will be installed.
A steel trash can with a thermoplastic powder coat finish is an option that will offer years of durability and make for colorful trash cans.
Outside trash cans made of recycled plastic will be impervious to rot, mildew, mold, splintering, cracking, and insects. This is one of the most durable and maintenance-free material options available.
For a more natural look, select ipe for a wooden trash can that is resistant to rot, mold, insects, and mildew.
Lids for Outside Trash Cans
Lids play an important role in commercial outdoor trash cans. They can keep paper and other lighter items from being blown out of the bin. They can also reduce the amount of rain and snow that collects in the trash.
However, lid openings need to be wide enough for trash to be placed in the receptacle. If its too small, items may get jammed in the opening and obstruct any further litter from being added. Leaving the trash to end up on the ground.
Lids on an outdoor trash bin should not include a door or require the user to touch the lid. The dirtier the trash bin the less likely it will be used.
Another option to consider with lids is an ashtray top. Cigarette buts are the most frequently littered item. Lids with ashtray tops are an easy way to increase the frequency of options for visitors to dispose of cigarette butts in clean and safe manner. Stand-alone ash receptacles are an option as well.
Below are the different styles of litter lid options from Thomas Steele. Note that not all lids will be available on all trash receptacles.
Ash Dome Lid | LID-A

22" x 9" (15 lbs.)

Crowne Lid | LID-C

22" x 11" (18 lbs.)

Crowne Ash LId | LID-CA

22" x 11" (17 lbs.)

Crowne Recycle Lid | LID-CR

22" x 11" (20 lbs.)

Cover Square Lid | LID-CSQ

22" sq. x 9" (11 lbs.)

Dome Lid | LID-D

22" x 9" (14 lbs.)

Elevated Lid | LID-E

22" x 11" (10 lbs.)

Elevated Ash Dome Lid | LID-EA

22" x 14" (15 lbs.)

Elevated Dome Lid | LID-ED

22" x 14" (14 lbs.)

Flat Lid | LID-F

22" x 2" (9 lbs.)

Flat Square Lid | LID-FSQ

22" sq. x 11" (11 lbs.)

Recycle Lid | LID-R

22" x 2" (9 lbs.)

Recycle and Trash Lid with Divided Liner | LID-SPLIT
Trash Retrieval
It's important the litter regularly be removed from outdoor trash receptacles. Trash cans that are too full overflow and cause debris to fall to the ground. Also, food and other perishable items left out too long can begin to rot causing unpleasant odors and discouraging use of that receptacle.
How the garbage will be emptied will then be another key consideration with a public trash can.
A side access door will allow the bin to slide out from the receptacle. The door is unlocked and swings open. The bin can then be removed and easily emptied.
A commercial trash can without a side door will need to be emptied from the top. This could be difficult depending on the weight and contents of the bin. Especially when dealing with liquids that have accumulated in the trash.
A hinged lid is one option that can make top trash retrieval easier. Simply push a button to release the lid and it will automatically raise. Push down on the lid and lock it closed to put the lid back in place. This option (HIN-LID) is available on most waste receptacles.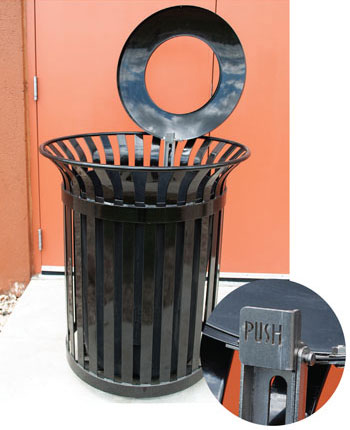 Installation of Park Trash Cans
Mounting your heavy-duty trash can to a concrete surface will keep your product secure and upright. A surface mount is where the litter receptacle is anchored to the concrete surface. With an in-ground mount, the feet of the receptacle will be extended. These extensions will be installed below the surface and encased with concrete, dirt, sand, or other material.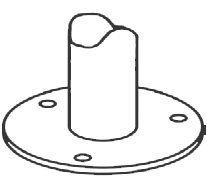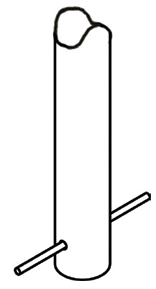 Certain styles of outdoor trash bins can also be left freestanding. Often these will come with feet that can be adjusted to level the trash can.
Make sure to follow the installation instructions of the specific product you select to ensure their stability.
Thomas Steele Outdoor Trash Cans
No matter if its a metal trash can, a wooden trash can, or recycled plastic trash can, we believe outdoor trash cans should not only be beautiful and durable, they should be affordable. Shop our many designs to discover a style that fits your vision at a price that meets your budget.
And if you need additional help in deciding on the perfect trash receptacle, a sales rep is available by contacting us through our website, emailing [email protected], calling (800) 448-7931 or through our live chat (during regular business hours).