Materials and Finishes
Powder Coated e-Steele
Almost every piece of steel used in Thomas Steele site furnishings goes through the e-Steele finishing process.
We start by undercoating our site furnishings using a state of the art e-coating along with an epoxy resin water-based paint. This produces a highly durable coating on the steel. We then electrostatically apply a polyester topcoat.
Together, this unique two-step process produces a finish that gives site furnishing products ideal protection from corrosion and performance abilities for installations in even the harshest environments.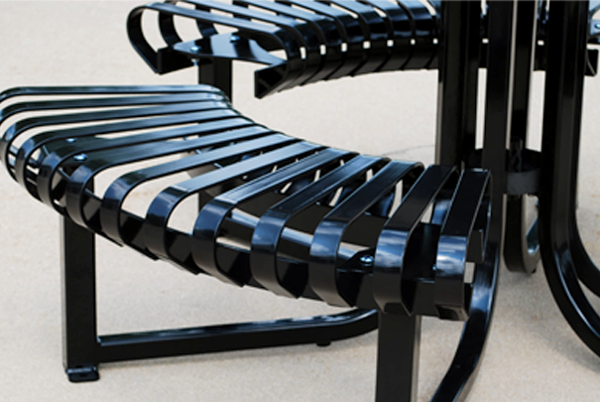 Aesthetics
e-Steele helps improve the visual appeal of site furnishings. It allows for a high-quality and uniform application of color to steel.
You can rely on the color to be evenly distributed without drips, runs or other common finishing blemishes.
Select from a standard offering of 16 colors or pick any color you want.
Standard Powder Coat Finishes
Standard Hardshell Powder Coat™ colors are shown. Contact Thomas Steele for a complete color chart.
Black

White

Grey

Patriot Blue

Midnight Blue

Forest Green

Lexington Green

Red

Berry

Bronze

Platinum

Storm Metallic

Yellow

Green

Mesa Tan

Gunmetal
Custom coloring is available. Please inquire about details
Note: Due to variations in monitors, colors shown may not be an exact match.
Please request color samples from Thomas Steele for accurate color comparisons.

Performance and Durability
The steel products of Thomas Steele are finished with a powder coat applied to a 3 mil thickness.
This thinner layer, compared to thicker applications of 8-mil or greater, is less likely to be gauged, peel and ultimately corrode.
Another major advantage of e-Steele is that it achieves an even coverage on 100% of the steel. Providing protection in even the smallest recesses, nooks and crannies makes products more resistant to chipping, scratching, rusting, and similar issues.
This is important because site furnishings with topcoats that don't achieve complete coverage or have an excess build-up in smaller recesses are more susceptible to premature damage.
Maintenance
Annual cleanings, with warm water and mild soap, will help the finish preserve its appearance and protective qualities.
Ipe
Pronounced "ee-pay", Ipe is a wood from South America that is a great material choice for outdoor site furnishings.
It naturally resists harsh weather, heavy use, rot, abrasion and insects.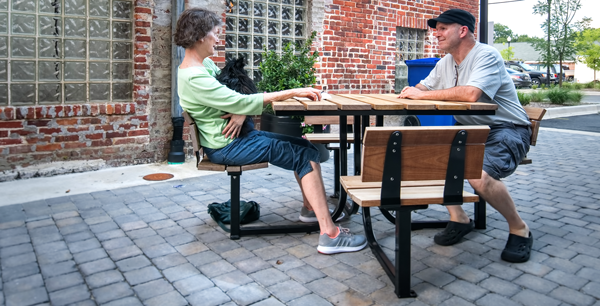 Aesthetics
Ipe material varies in color from reddish-brown to an olive-brown. Over time this weathered ipe will turn to a silver-grey.
The wood will display fine to medium grains and texture. The grains vary from straight to irregular, even interlocking. The Ipe wood used in Thomas Steele commercial site furnishings comes in a natural finish. A timber oil is applied to the wood before it leaves our facility.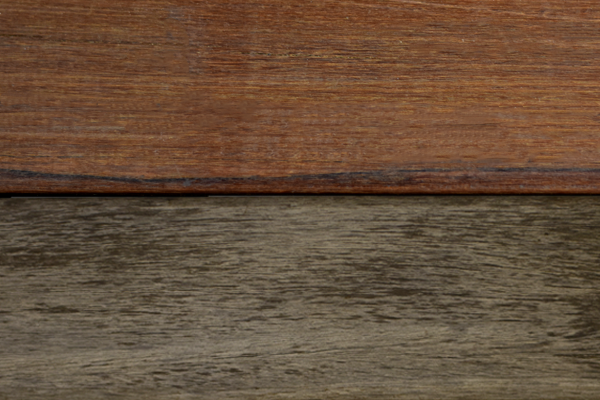 The top board shows Ipe with oil. The board on the bottom is weathered Ipe.
Performance and Durability
Three times harder than oak, Ipe is incredibly dense and durable. This wood is rated as very resistant to rot and has excellent insect resistance.
Like any wood, small surface cracks and some checking may result from exposure to temperatures and the elements.
The surface cracks have no effect on the structural integrity of the wood. Checking will be minimal. A primary reason this material is used for site furnishings.

Example of cracks and checking that may occur in Ipe boards.
Maintenance
If letting the wood fade to its natural silver, the wood will only need to be sealed upon installation. To keep the original color, sealer will need to be applied annually, at a minimum.
For cleaning, use soapy water and a stiff brush to loosen impediments. Then rinse clean.
Heavily weathered Ipe can be restored through sanding and an application of oil.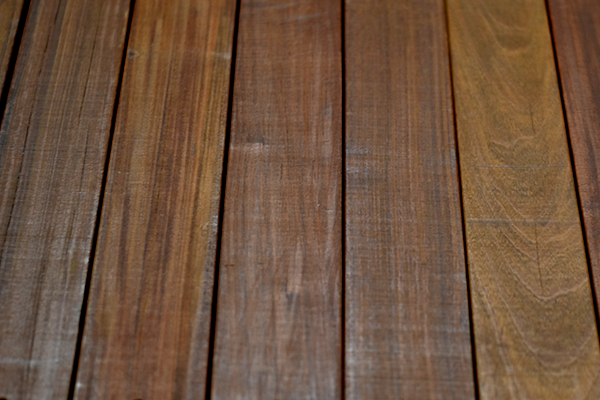 Download Ipe Information Document (.pdf)
Recycled Plastic
Recycled plastic is a high-density polyethylene material (HDPE) made from post-industrial and/or wide spec material. HDPE makes up, on average, 96% of this type of board. The other 4% is colorant with UV inhibitors and a blowing agent. No other products like pulp, wood fiber or fiberglass are added to this lumber.
The material is manufactured to resemble the visual look of wood but also provides longer-lasting durability.
Aesthetics
Thomas Steele offers two styles of recycled plastic boards - Embossed Recycled Plastic & Standard Recycled Plastic. The primary difference is embossed recycled plastic is a premium styling with a more defined wood grain pattern.
Embossed Recycled Plastic Wood Types

| | | | |
| --- | --- | --- | --- |
| Birchwood (ERB) | Driftwood Gray (ERD) | Mohogany (ERM) | Walnut (RRW) |
Recycled Plastic Colors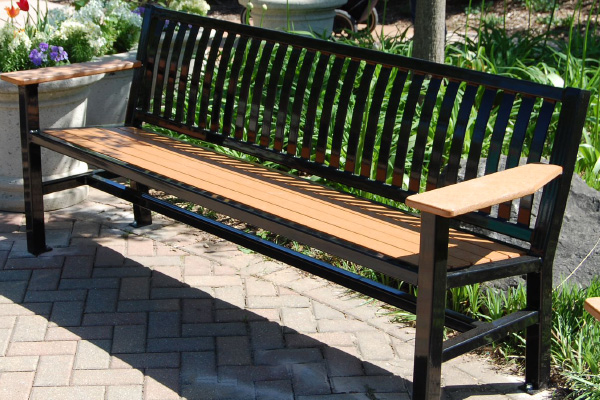 | | |
| --- | --- |
| Weathered Redwood (RPW) | Cedar (RPC) |
Performance and Durability
This material is graffiti- and UV-resistant and ideal for outdoor use as the material will not crack, splinter or rust. Recycled plastic does not absorb moisture, so it is extremely resistant to mildew, rot, insects, salt, and acids.
It will not leech or bleed toxins or carcinogens that would possibly end up in the soil or marine ecology.
The structural strength of recycled plastic is less than wood. Boards can sag under their own weight. Because of this limitation, Thomas Steele only uses this material in products with adequate framing and support. Certain designs may not be available in recycled plastic.
Discover: Benches Made with Recycled Plastic
Maintenance
This material requires minimal maintenance as there is no need for sealants. If cleaning is needed, it can be done with clear water or mild soap.

Download Recycled Plastics Information Document (.pdf)
Deciding on Site Furnishing Materials
We're not here to tell you what design furnishing materials is more appealing. As they say, "beauty lies in the eye of the beholder".
If wood grains look better than powder-coated steel for a bench in a park, that is entirely up to you.
However, since most site furnishings are destined to be installed outdoors, it's critical they can stand up to environmental impacts. Such as rot, mold, insects, and corrosion in salty areas.
Because of this, any material used in site furnishings must be durable and resistant to natural forces. It's also worth considering the durability to regular usage, as well as vandalism.
Upkeep is another factor. The effort and frequency needed to maintain the materials of the site furniture should play a part in your decision.
Design and style will guide your outdoor site furnishings selection. But make sure the materials will uphold the aesthetics for long-term enjoyment.