Outdoor Table Options
One of the real treasures when selecting a table from Thomas Steele is the number of available options.
It borders on custom, without the price tag.
But many are not aware of all the options available to them. In this article, you'll see the different options for commercial outdoor tables and know how to configure a table that best matches with your ideas and design.
It is worth noting that not every table model has all the options covered in this article. Certain products, like a Square Monona Table, won't have the ability to be constructed with a circle tabletop.
To discover the perfect table, we suggest starting by selecting the style of table that appeals to you the most. Click any of the options to jump to that section and learn more about the options for that style of table.
Courtyard Tables
Courtyard tables feature a style where the seats and table are all supported by a single frame.
When selecting a courtyard table, the different product names are based on the style of the seat. So you would want to start by finding a seat style you prefer.
Cunningham Backed
CNT-B
Carnival Backed
CRT-B
Gramercy Backed
GRT-B
Langdon Backed
LAT-B
Lofty Backed
LOT-B
State Street Backed
SST-B

Ashton Flat
AST-F


Cunningham Flat
CNT-F
Carnival Flat
CRT-F
Gramercy Flat
GRT-F
Langdon Flat
LAT-F
Lofty Flat
LOT-F
State Street Flat
SST-F
Volare Flat
VLT-F
The next option is to decide if the seats will be flat or backed. Most seat styles come either flat or with a back.
You will then decide the number of seats. Courtyard tables come with either 3, 4, 5 or 6 seat configurations.
Once you've got your style and number of seats figured out, you'll want to determine the height of the table.
Courtyard Table Heights
Each courtyard table is available in three different heights – Lounge, Dining, and Bar.
| | | |
| --- | --- | --- |
| Lounge Height Table | Dining Height Table | Bar Height Table |
Lounge Height table
Lounge height tables are the lowest style of table. Generally, the heights of these tables are 20" tall.
These are good for installations where people will want to set items down, but still easily reach, yet not have the physical barrier between other people at the table. Think people getting together for coffee.
However, these tables would not be ideal if the primary use would be for dining.
Dining Height Table
A dining height table is a standard height for Courtyard Tables and perfect for everything from dining to gathering socially in the park.
The heights of these tables are typically 30".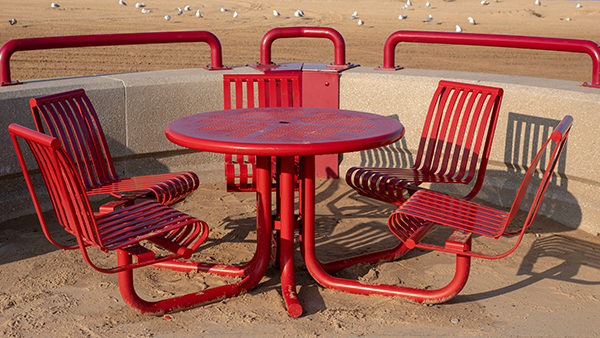 Bar Height Table
Bar height tables are the tallest table offering from Thomas Steele.
These tabletops measure 42" from the ground.
This table height is great for installations where there will be a mixed-use of sitting and/or standing at the tables. Or for raised dinning.
Terraces, bars/restaurants, cafes and more would commonly use a table at this height.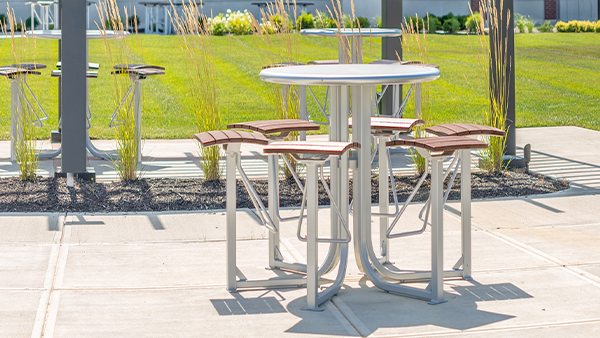 Once you've determined the desired product and the appropriate height, you will then select from different tabletop shapes and materials.
Courtyard Tabletop Shapes & Materials
There are two primary options when selecting a tabletop – the shape and the material it is constructed of.
TBL-PM Perforated Metal

TBL-RP Recycled Plastic

TBL-WI Ipe

Standard Powder Coated

TBL-SS Stainless Steel

TBL-SQP Powder Coated

TBL-SQS Stainless Steel

TBL-SQRP Recycled Plastic

TBL-SQWI Ipe
Tabletop Shape
Every Courtyard Table is typically available to be manufactured with either a circle or a square top.
The size of the tabletop for Courtyard Tables is 42" wide for square tabletops and 42" diameter for round.
However, square tops are only available with 3 or 4 seat configurations.
Tabletop Materials
Both square and circle tabletops are available in powder-coated steel, stainless steel, embossed recycled plastic, recycled plastic or ipe wood.
The other option would be a perforated metal tabletop. But this is only available as a circle, made of powder coated steel.
Selecting from these options will get you a Courtyard Table to match your design idea.
But, if you're looking for an option where the seats are independent of the table, an Individual Table & Seat configuration would be your best bet.
Individual Tables & Seats
With an Individual Table & Seat arrangement, you would be selecting seats and tables independently.
One advantage of individual tables & seats is that you have more freedom to match table styles with seats. And you could have multiple styles of seats around a table if you'd prefer.
The thing to note with individual tables and seats is each piece would need to be mounted separately. As compared to Courtyard Tables where the entire table is assembled as a single unit. And can then be placed or mounted to the surface.
When it comes to mounting the individual tables and seats, there are two options. The first is surface mount. A circular flange is attached to the base of the seat or table with pre-drilled holes. Anchors are then inserted through the flange and into the surface to secure the table or seat in place.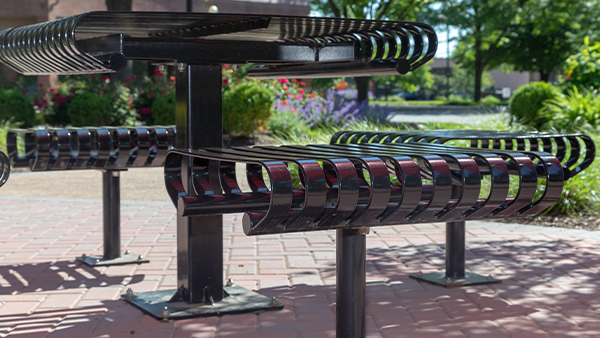 The second mounting option is in ground. With an in-ground mount, an additional length of legs is added to the table or seat by the manufacturer. This extension would be placed below grade and encased in concrete.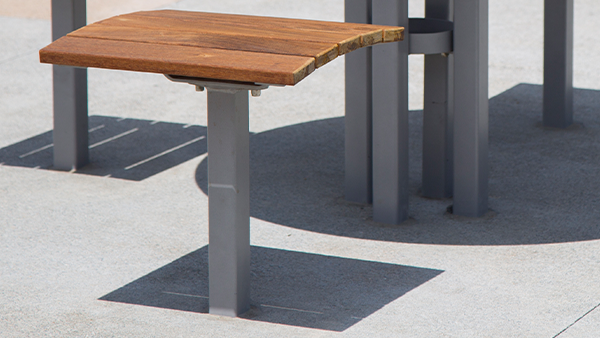 Individual Seats
To start, we would again recommend selecting the style of individual seat that is most appealing. Each seat style from Thomas Steele is assigned a different product name.
Once you've identified the best seat, you would next select either a dining height seat or bar height seat. Dining Height seats measure 18" from the ground to the seat and bar height is 30" ground to seat.
The next option would be either flat or backed seats. Each individual seat style would be available with a back or as a flat seat.
Individual Tables
Next, you would select an individual table, starting with the height.
The heights of the tables also come in Dinning and Bar height. So you would want to start with the table height that matches the seat height.
Then you would want to select either a circle or square tabletop shape.
Circle tabletops are available in 36" or 42" diameter. Square tabletops are 42".
The tabletop material would be the next option to decide. Circle and square tabletops are available in the following materials:
Powder Coat
Embossed Recycled Plastic
Recycled Plastic
Ipe wood
Perforated powder-coated steel and stainless-steel tabletops are also options. However, they are only available in a circle shape.
Note: 36" diameter tops are only available in solid or perforated powder-coated steel.
Keep in mind, square tabletops on individual tables will likely only be used with 2, 3 or 4 seats. If you plan to add more individual seats around the table, you will want to use a circle tabletop.
There is another option for adding more seats, however. That would be to use a longer table, like a Picnic Table.
Picnic Tables
Picnic tales differ from Courtyard and Individual tables in that they are longer. Thomas Steele commercial picnic tables come in 6-foot and 8-foot lengths and vary in width from 30 – 34 inches, depending on the specific style selected.
The table heights are also available in either dining or bar height.
What's worth noting with picnic tables are the benches.
Picnic Table Benches
Benches are available separate from the table (surface mount) or configured where the benches and tables are attached to a rail (freestanding).
Benches also come in lengths of four feet (for six-foot tables) or six feet (for eight-foot tables). The additional space allows access for things like wheelchairs and adheres to ADA regulations.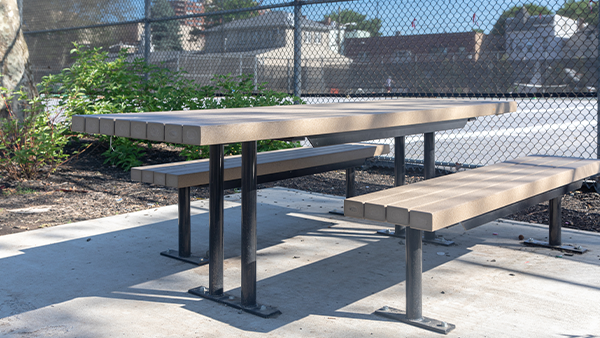 Benches also only come in dining height. If using a bar height picnic table, you would need to select individual seats or stools to provide seating at the table.
Picnic Table & Bench Materials
Another difference of Picnic Tables and benches are the materials.
Each style of Thomas Steele Picnic Table and bench has a set material and product name. For example, the Carnival is constructed completely of powder-coated steel. Where the Fairway table uses recycled plastic for the tabletop and seat materials.
Mounting Picnic Tables & Benches
You have three options when it comes to Picnic Table & Benches. The first is freestanding. As mentioned earlier, this is where the bench and the table would be secured to a rail.
This would give you the least amount of flexibility as the matching bench and table would arrive as a singular unit and benches would be set at a pre-determined distance from the table.
This mount is a secure way to place picnic tables and benches on grass, asphalt, or other surfaces without needing to anchor the furniture to the surface.
Thomas Steele does offer another style of freestanding picnic tables. These would have a single frame that holds the tabletop and seats. The Wingra or Walden Park are examples of this style of table.
A surface mount would allow you to select one style of table and use a different style of chairs or stools. You can also mount the seats at whatever distance from the table you prefer.
This is also a preferred mounting style when there is an existing concrete pad. But a concrete surface is needed to install the furniture.
The final option would be an in-ground mount. Like individual tables and chairs, when selecting picnic tables and benches to mount in the ground, an additional length of leg will come with the product. This will be placed below grade and concrete will be poured, encasing the extension.
This is the most secure mounting option. It also gives you the flexibility to use different tables and styles of seats. But is best used for new construction.
Overall, picnic tables are great options when wanting to provide large amounts of tabletop and seating space. But for more individual or personal spaces, Café Tables & Chairs would be a better choice.
Café Tables & Chairs
Café Tables & Chairs are individual pieces that don't require mounting. They're meant to be moved around and arranged to best serve the people using the furniture.
Café Tabletops
Thomas Steele Café tabletops are available as a round or square shape in 36"* or 42" sizes.
Round table tops are available in powder-coated steel, perforated metal, and stainless steel.
Square tabletops are available in powder-coated steel and stainless steel.
*Stainless steel tabletops not available in 36" size.
Café Table Bases
| | | | | |
| --- | --- | --- | --- | --- |
| | | | | |
| Disc Base Cafe Table | Tube Base Cafe Table | Rod Base Cafe Table | Rod Square Base Cafe Table | Wingra Base Cafe Table |
A disk or tube leg base are standard options for Thomas Steele café tables.
Other options include Rod Base, Rod Square Base and Wingra Base. These would have a slight upcharge on the overall product price.
All of these options are available in the dining height.
For bar height, you have the base options of rod, rod square, disk and tube.
Café Chairs
Thomas Steele Café Chairs come in several different styles.
Wire mesh chair with the options of arms or no arms. Only available in dining height.
Perforated metal chair, also available with or without arms. This chair is only available in dining height.
The Terrace Chair has metal straps for the seat and backrest.
The Parlor chair has a round seat and round steel bar backrest.
Both of these chairs are available in a dining height and bar height.
Outdoor Seating Options
There is no shortage of options with Thomas Steele outdoor tables. This is intended so you can get the best design to match your vision.
You can discover all the available styles of tables by viewing products on Thomas-Steele.com.
Or download the catalog to see a menu of table options and related family products.
If you ever need help to decide the best options, we're here via phone, live-chat or by contacting us online