Materials and Accessories
Materials & Finishes
Learn about the materials & finishes that Madrax and Thomas Steele offer for their hand-crafted Bike Rack and Site Furnishing products. We discuss the differences between different materials and finish types, as well as when you should use certain finishes and what warranties are associated with each.
---
Standard Powder Coat Finishes
Standard Hardshell Powder Coat™ colors are shown. Contact Thomas Steele for a complete color chart.
Black

White

Grey

Patriot Blue

Midnight Blue

Forest Green

Lexington Green

Red

Berry

Bronze

Platinum

Storm Metallic

Yellow

Green

Mesa Tan

Gunmetal
Note: Due to variations in monitors, colors shown may not be an exact match.
Please request color samples from Thomas Steele for accurate color comparisons.
---
Recycled Plastic Colors
Grey (RPG)

Weathered Redwood (RPW)

Cedar (RPC)

Brown (RPB)
Recycled Plastic
High-density polyethylene material (HDPE) made from post-consumer recycled plastic containers. Material is graffiti- and UV-resistant and ideal for outdoor use. Material will not crack or rust.
---
Embossed Recycled Plastic Colors
Birchwood (ERB)

Driftwood Grey (ERD)

Mahogany (ERM)

Walnut (RRW)
Embossed Recycled Plastic: (ER)
Premium Recycled Plastic with wood grain embossed pattern. Contact our team to confirm availability of Embossed Recycled Plastic material on this product.


---
Wood
Ipe
Ipe
Pronounced "ee-pay," this olive-brown wood weathers to a beautiful silver grey. Three times harder than oak, ipe is the perfect choice for outdoors, where it resists harsh weather, heavy use, and vandalism.
---
Table Top Options
TBL-PM Perforated Metal

TBL-RP Recycled Plastic

TBL-WI Ipe

Standard Powder Coated

TBL-SS Stainless Steel

TBL-SQP Powder Coated

TBL-SQS Stainless Steel

TBL-SQRP Recycled Plastic

TBL-SQWI Ipe
---
Litter Lid Options
LID-A

LID-F

LID-D

LID-ED

LID-R

LID-EA

LID-C*

LID-CA*

LID-CR

LID-FSQ

LID-E

LID-CSQ

LID-SPLIT

*Crown Lids not for use on Carnival, Cunningham, Gramercy or Windsor Receptacles
Item No.
Description
D"xH"
(Wt.)
LID-F
Flat Lid
22 x 2
(9)
LID-FSQ
Flat Square Lid
22SQ x 2
(11)
LID-CSQ
Cover Square Lid
22SQ x 9
(11)
LID-R
Recycle Lid
22 x 2
(9)
LID-D
Dome Lid
22 x 9
(14)
LID-E
Elevated Lid
22 x 11
(10)
LID-A
Ash Dome Lid
22 x 9
(15)
LID-ED
Elevated Dome Lid
22 x 14
(14)
LID-EA
Elevated Ash Dome Lid
22 x 14
(15)
LID-C
Crowne Lid
22 x 11
(18)
LID-CA
Crowne Ash Lid
22 x 11
(17)
LID-CR
Crowne Recycle Lid
22 x 11
(20)
LID-SPLIT
Recycle and Trash Lid with Divided Liner (18)
Hinged Lid Option
Our Hinged Lid Option (HIN-LID) is available on most receptacles.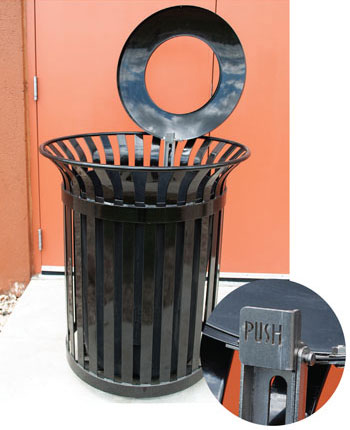 Hinged Lid Option (HIN-LID).
---
Cast Brass Plaques
We offer personalized memorial and commemorative plaques to help you remember those special people and places in your community. Let us help you create a beautiful dedicatory plaque for your site furnishings.